Cargo Van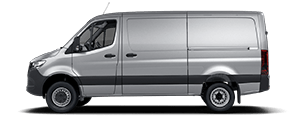 Sprinter Cargo Vans are built to build your business. Constructed smarter from the ground up, the Sprinter created the blueprint for the hardworking commercial van. Cavernous cargo room, tall interior standing height, a 5 ft. x 8 ft. load floor, class-leading payload capacities and advanced safety features help make every job easier. Plus, multiple wheelbase, height and length configurations let you select a van that works for you. 4x4 option available in select configurations.

Starting at $38,300*
Crew Van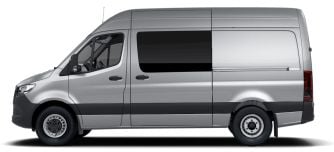 The Sprinter Crew Van features the flexibility to carry up to five people. A fuel-saving turbocharged engine reduces expenses and improves total cost of ownership while cargo volumes up to 370.8 cu. ft., and highly advanced safety features help protect both cargo and crew. A removable three-seat bench provides the flexibility to bring along your work force to any job. 4x4 option available in select configurations.

Starting at $43,400*
Passenger Van

Enjoy transportation without complication. The Sprinter Passenger Van offers first-class transportation with unrivaled style, safety and innovation. With seating for up to 15, the Sprinter Passenger Van features an interior standing height up to 6 ft. 3 in., a fuel-saving turbocharged engine, smooth 7-speed 7G-TRONIC or
9-speed 9G-TRONIC transmissions and advanced
safety features,
including an available rear backup camera.
4x4 option available in select configurations.
Starting at $45,300*
Cab Chassis/Cutaway

Whether you want to build a food truck, a state-of-the-art ambulance, a home-on-wheels RV, a luxury limo, box delivery vehicle or anything else, your dream fits on a Sprinter. Powered by a standard high-torque turbo diesel engine, the Sprinter Cab Chassis is compatible with a vast
range of bodies, and features rack-and-pinion steering,
independent
front suspension and road-tested reliability.
Starting at $42,700*