The face of commercial vehicles.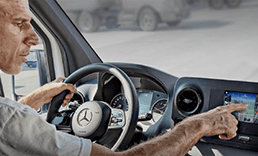 From bumper to bumper, the Sprinter Van is a showpiece of innovative technology. All the advancements are designed and implemented for a specific purpose: to give you the finest commercial vehicle driving experience possible. Inside, ergonomic driver and passenger seats are crafted from durable upholstery to resist everyday wear and improve breathability. The seats are placed in the optimum position for visibility, and entry and exit. The redesigned instrument cluster is clearly arranged and all the buttons and switches are intuitive and easy to reach.
Refined interior.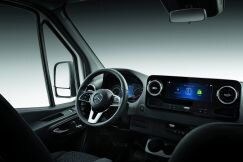 Standard.
For the amount of time you spend in your commercial vehicle, it should be as comfortable as possible. The Sprinter's cockpit was built with you in mind, offering more ways to make your time behind the wheel more relaxing. The dynamic interior includes
Optimized standard steering with a thicker rim for better grip
Available multi-function steering wheel with chrome trim on air inlet
Bold gearshift lever design with high-gloss panel and chrome surround
Ergonomic seats with lowered sides and lumbar supports

Seat covers offer better breathability for enhanced comfort and high wear resistance
Convenient dashboard storage compartment for vehicles equipped with bulkhead/partition wall



Defined exterior.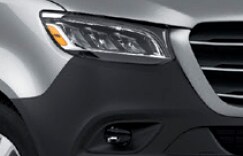 From the moment it comes into view, you can see that this vehicle is something special. The Sprinter complements its numerous features with a bold progressive profile that immediately makes a striking impression.
The new Sprinter features a reshaped grille, fenders, and lights, plus a new rear window. Exterior craftsmanship begins with the detailed radiator grille, which sits upright. The three radiator louvers are swept back from top to bottom and are perforated. This increases the airflow and adds to the overall confident look. The headlamps feature sharp contours and further accentuate this distinctive appearance. The hood is raised, resulting in improved protection for pedestrians. It also features pronounced contours, giving the Sprinter its authoritative profile. Even the bumper has been meticulously designed to feature a distinct sweep up to the headlamps. The bumper seamlessly combines with the other elements to offer dramatic proof that this is the unmistakable face of commercial vehicles.
With progressive contours and impressive features, the Sprinter Van is invigorated with a stylish, modern appearance as well as sophisticated electronics that include:
7-inch or 10.25-inch touchscreens
FM/AM radio
Bluetooth® telephone system including keypad with hands-free profile (HFP) and phonebook access profile (PBAP) function
iPod® interface (operated via multi-functional steering wheel or on head unit)
AUX input in cockpit
USB connection
SD card slot
Audio via Bluetooth® audio streaming(A2DP)
WMA, MP3, AAC, WAV
Phonebook with up to 1,000 entries