Design Features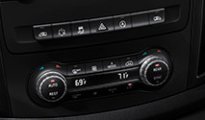 Automatic Climate Control System
Optional.
Helps you manage air flow and temperature inside, keeping you and your passengers comfortable.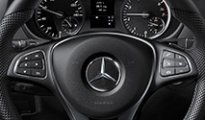 Multi-Function Steering Wheel
Optional.
The convenient multi-function steering wheel lets you control commonly used vehicle features safely.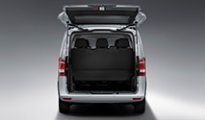 Rear Tailgate Door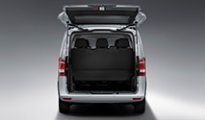 Optional.
Designed with you in mind, the Metris Van 
helps you load and unload - even in tight spaces
.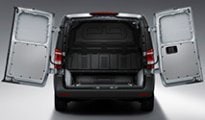 Folding Doors
Double rear doors open wide for maximum clearance - a great feature when loading and unloading cargo.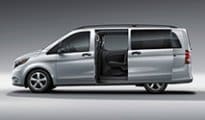 Electric Sliding Side Doors
Optional/Passenger Vans Only.
Wide sliding doors on both sides provide easy-entry for your passengers to get in and out.
Navigation System
Optional.
The 5.8-inch full-color screen offers an optional navigation system to point you in the right direction, adding more peace of mind while on the road.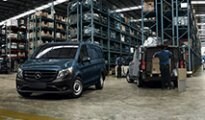 Versatile Concept
With a history of industry firsts, Mercedes-Benz continues its heritage of innovation with the Metris as the benchmark as of mid-size vans.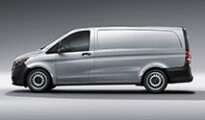 Compact Van Garageability
Designed to fit your business, the Metris Van lets you maneuver tight streets and low parking structures with ease.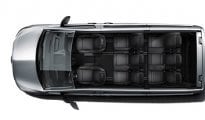 Seating for Up to 8 People
With plenty of shoulder room and legroom, the Metris Van comfortably seats up to 8 adults, with configurations designed to fit your business.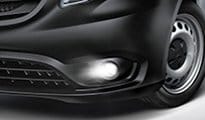 Best-In-Class Turning Radius
Best-in-class turning radius gives you a small footprint with large possibilities.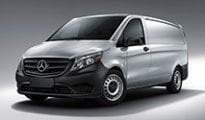 Exterior Design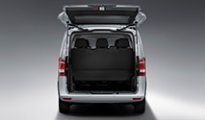 With its right-size approach, the Metris Van features a sturdy exterior build that is as unique as your business.
Safety Features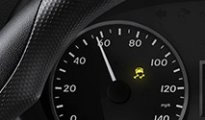 Load-Adaptive Electronic Stability Program ESP®
Helps to keep the vehicle firmly under control if wheelspin, understeer or oversteer is detected.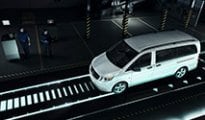 Lane Keeping Assist
Optional.
Warns the driver when the vehicle is wandering unintentionally across visible lane markings, helping to prevent accidents.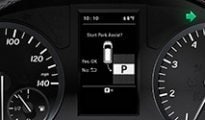 Optional.
Helps sense and maneuver into parking spaces automatically, while the driver operates the accelerator and brake pedals.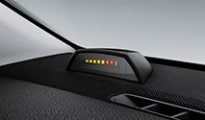 Optional.
Helps take the stress out of everyday parking by warning the driver when the Metris Van gets close to another vehicle or object.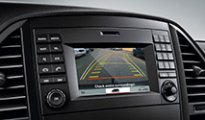 Visual parking aid is activated when reverse gear is selected, providing the driver with a better view of the area directly behind the Metris Van.
Blind Spot Assist
℠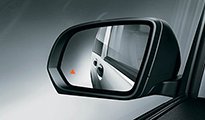 Optional.
Uses radar sensors to monitor the sides. If the system detects another vehicle alongside, a visual notification alerts the driver.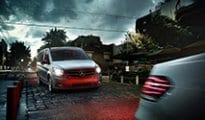 Collision Prevention Assist
Optional.
Helps prevent rear-end collisions by providing warnings when vehicles traveling ahead come within a potentially dangerous distance.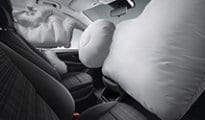 Driver and Front Passenger Airbags
The driver and passenger front, thorax, and window airbags help to protect you and your passengers in case of collision.  Passenger Vans are also equipped with rear curtain airbags.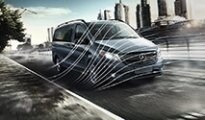 Crosswind Assist helps keep your vehicle from drifting out of its lane due to unexpected crosswinds by means of targeted braking of individual wheels.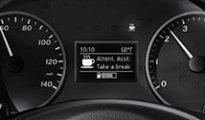 Helps prevent drowsy driving by monitoring driving patterns and providing an early warning in case tiredness is detected.
Rescue Assist
℠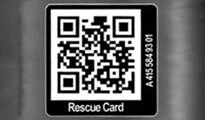 With Rescue Assist℠, first responders to an accident can scan a QR code in a Mercedes-Benz Van to quickly see where batteries, airbags, and other structural elements are located in order to safely perform the rescue.
Headlamp Assist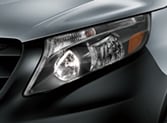 Automatic Headlamp Assist is a driving aid and convenience system which switches on the exterior lighting when the lights sensor detects low ambient light levels and off when detected light levels are high.